Oh man. Just all of Tokyo. I recommend to you everything in the entire city. Get all of Tokyo. Take all of Tokyo. Have all of Tokyo. Done. But if I had to narrow it down then here are a few things that were especially amazing in Tokyo. As before, check this map if you want to see the location of these recommendations. Further bonus, this other map has all of the recommendations that I received for both Tokyo and Kyoto.
I'm saying it here: Fuglen is one of the best roasters and coffee shops in the world. It shouldn't be surprising, but the baseline coffee scene is STRONG in Tokyo. Getting to the lofty heights of outstanding coffee requires passion, knowledge, patience, and care. All of which are just kind of Japan's thing.
So when I say that Fuglen blows away the already strong competition in Tokyo that means it is a must stop for any coffee loving snobbish assholes out there. The original Fuglen location is based in Oslo so expect the roasting to be very Scandinavian. That means an extremely light roast to bring out the widest variety of flavors in each bean. It also means higher acidity and less roasty/burnt/bitterness than you may be used to if you waste your tastebuds on Starbucks equivalents.
The shop itself is a step back into old school Scandinavian design and, on our visit, came complete with two decked out dudes rocking classic east-meets-west three piece suits sitting in the front. Well played Fuglen. They have you covered with the usual variety of brew methods you would expect from a world class modern coffee shop[1]. Fuglen also converts to a bar at night and word on the street is that their cocktails are no joke. Really, Fulgen has everything you need… except food. They don't have any of that. Somehow, you will have to find somewhere else to get food in Tokyo.
I just… I mean… I… Holy crap ROBOT RESTAURANT! This is the place that every single person recommended we do in Tokyo and every single person was right in every single way possible. There is just nothing else like Robot Restaurant. To start with, it isn't a restaurant. Woah, already bringing the unexpected. I mean, they have food, and they have restaurant in the name… but don't eat there. You come to Robot Restaurant for the spectacle [2]. But really Robot Restaurant is a performance that will make you doubt whether any fun you have had before was true fun by comparison. "Was anything before ever actually fun enough to be called fun? Did I even know what fun was?" Yeah, Robot Restaurant is deep.
Robot Restaurant is also robots fighting, flashing lights, ridiculous spectacles, and raw joy. Basically a real life anime that will overload your senses with "yes, awesome, more!". Get excited. Now get more excited. Ok now calm down a bit because you need to book your tickets before you go to make sure that you have a spot waiting for you. You definitely don't want to miss Robot Restaurant.
I'm not actually sure I can actually recommend Sushi Taira[3]. Do you want an omakase that will ruin you for all other sushi? Did you even know that was possible? I didn't. I've had super fancy [4] omakase in NYC and in Tokyo before, so I thought I had already experienced the top tier of sushi.
Nope.
At Sushi Taira I learned that, when it comes to sushi, there is a whole level of quality that I hadn't ever experienced. What is better than excellent? Mega-excellent? Mexcellent? That just sounds like how you would describe really outstanding tacos[5]. If you want to experience some top level ultra premium dining that will ruin your standards and your wallet then Tokyo can do that for you. Just make sure to make a reservation.
Belgo is a Belgian beer bar. I get it, you aren't coming to Tokyo for European things. You are coming for Japanese things. That's cool. You know what is Japanese? Giving a shit about every tiny detail and executing perfectly. Turns out that those are skills that make for an amazing Belgian beer bar.
Hidden away down an unassuming set of stairs is the coziest little bar you can imagine. They have multiple draft beers (Belgian's of course) which are probably the best draft Belgian beers I've ever tasted. I don't know if they hand massage the beer lines, clean them after every pour, or sing comforting lullabies to the taps each night. Whatever they are doing, the result is ridiculously fresh and delicious imported beer [6].
Here to kick your ramen game up to the next level is Tukumo's cheese ramen. And, no, this isn't just some tiny little sprinkling of cheddar. Tukumo piles their ramen high with, what, maybe a softball's worth of shredded magic. The result tastes nothing like you would expect. The cheese imparts a savory/umami that makes this the most satisfying ramen I had in Japan. Sure I had other bowls which were more delicate or delightful, but Tukumo was the first time that I walked out of a ramen place and thought "ok, I've had enough ramen. My insatiable ramen craving has been satisfied".
Just look at that tower of cheese. You need that! Isn't it beautiful? This is what you came to Tokyo for: the initially ridiculous that still turns out wonderful. Think how short life is. How can you skip the chance to try cheese ramen?
Stroll east of Tokyo Station to find what I can only assume is the business man super legit yakotori place district. We actually couldn't get in to the first place we tried because they were full and these aren't the type of places that have lines. If one of these yakitori joints is full, you just leave and try again tomorrow. Sorry. End of story. No one is leaving any time soon.
We lucked out and got the last table at Toritoku and felt privileged to even be there. Really though, it should be a requirement that if you go to Japan you have to spend at least one night sitting on the floor of a yakitori joint, drinking too much delicious local light beer and eating various grilled chicken parts. Bonus points if no one there speaks english and the only way to communicate is through a hand written english menu plus a lot of good will on both sides. That made it doubly authentic.
I can't tell you if Toritoku is the better or worse than other yakitori places around, but the experience alone can't be missed. Add it to your itinerary, it has been decided, you are doing it.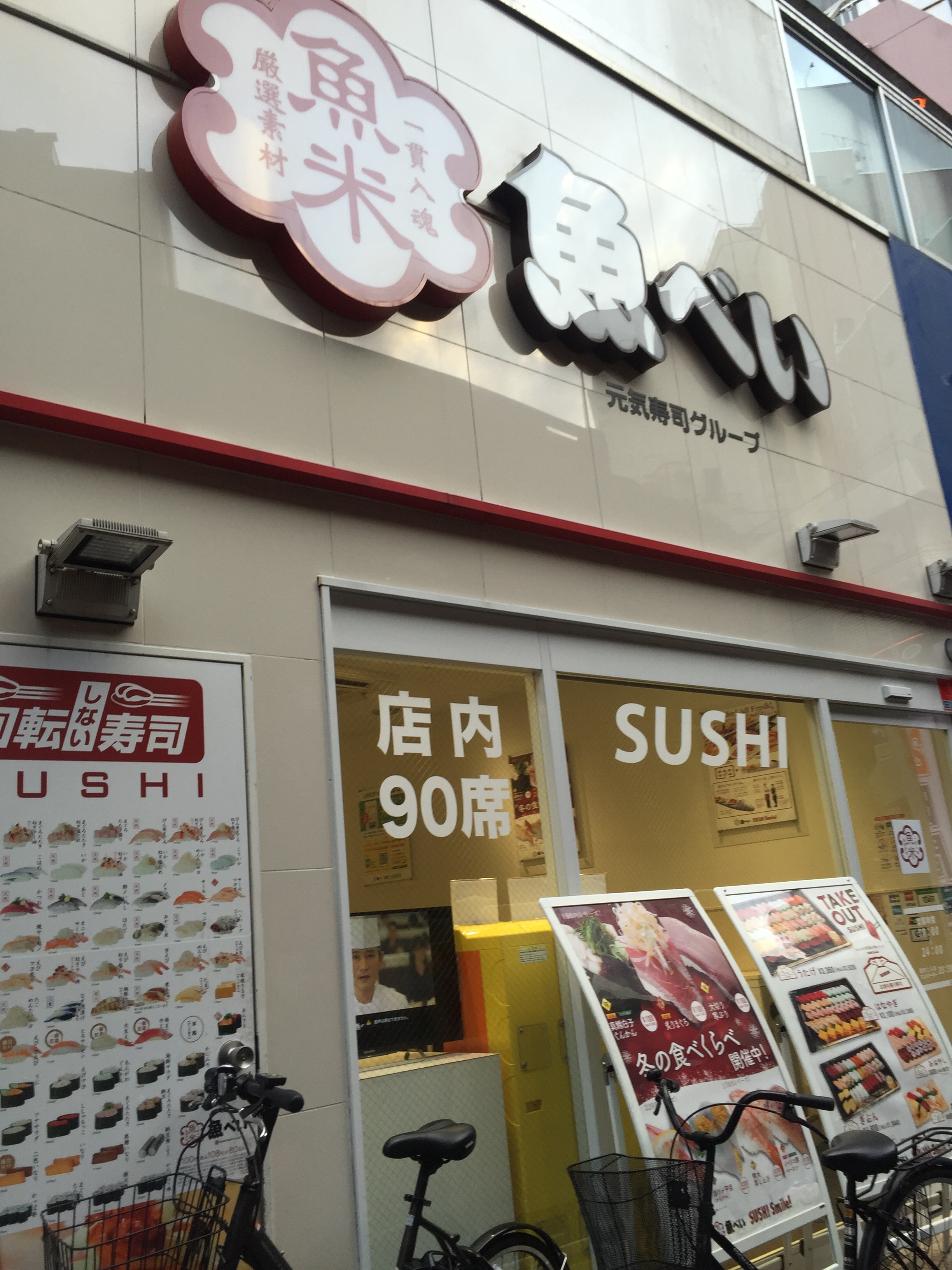 Robot sushi? Of course. Genki is a chain so you can find locations all over Tokyo. It is also a popular chain so don't be surprised if you have to wait to get a seat. But once you do, woooooooooooo it is robot sushi time!
Robot sushi is basically conveyor belt sushi 2.0 [7]. Sit at a chair at the little bar, select your options from a tablet[8], and delight in the ability to order food without interacting with humans. Sweet sweet reclusion. When your sushi is ready it comes out directly to you on a little train. How delightful! Actually for some reason the little trains bringing our food had their little model train parts removed so instead they were just little trays on tracks. But, don't worry, still delightful!
And the sushi? It was cheap! If you are going to go to 鮨 鯛良 or any other fancy omakase then definitely save that until after Genki. The fish was fresh and clean here but I don't think we would have been as excited about the experience if we had recently eaten amazing sushi.
Things to Buy
Last but not least, you should buy stuff in Tokyo. Obvious, there are 20 flavors of Kit Kats so buy a bunch of those as gifts. Pro tip, there is a shop in Tokyo station that has all of the flavors so go there to stock up if you want the best options.
Next up, you will obviously be buying a lot of great things from convenience stores. The selection of mini whiskey bottles at 7–11, FamilyMart, and Lawson is unreal. But keep an eye out for the frozen food dessert section because sometimes there is a special gem hiding there: green tea Parm bars. I don't really understand "Parm" as a brand name, but what I do know is that these things are outstanding. We quested for them because they could be hard to find, but they are always a must purchase when found. It is time to spoil yourself.
Finally, when we were in Shibuya late at night, everyone was buying and drinking Strong Zero to get drunk. So, after seeing the fifth person stroll in and buy a Strong Zero I finally decided to see what the fuss was all about. Get excited, Strong Zero is terrible. I assume it is just the cheapest way to get a lot of alcohol? I don't know. You are on your own here. STRONG ZERO!